This is a very natural phenomenon and all of us do loss hair. Too much of hair loss is a matter of concern. This usually happens after a long illness, extreme climates, too much of stress and bad eating or sleeping habits
.
Tip 1:
Coconut water is one of the many used natural liquids for hair growth. This list will provide you all the information on coconut water for hair growth, starting from the benefits to the methods of use.
Coconut water is one of the most naturally refreshing and soothing drinks that you can adhere to. There are innumerable benefits attached with coconut water where hair and skin are concerned. Along with drinking it, application of the same will give you wonderful outcomes for a glowing skin and healthy and voluminous hair. You will see visible results with regular consumption or application as face and hair masks.
Wash the hair with Tender Coconut water every other day for weeks.
How does Coconut Water for Hair Growth Help?
When we specifically talk about hair growth, coconut water has naturally hydrating properties that help in strengthening the roots as well as improving the blood circulation to the hair follicles. These help in triggering the hair growth in a perfect manner. It can be simply massaged into the hair or else consumed each day for maximum advantage.
It is also loaded with nutrients like vitamins and minerals that will help in keeping the hair healthy and free from any crises. This will in turn help in hair growth. It also has calcium and protein. The hair strands are made from protein and therefore coconut water will help in the growth process.
On the other hand, coconut water has anti- fungal as well as anti-bacterial properties that help in prevention of issues like dandruff, infections as well as itchiness that are responsible for hindering the growth.
Tip 2:
Add the paste of fresh Curry leaves to Shikakai powder and wash hair with this on a regular basis.
Tip 3: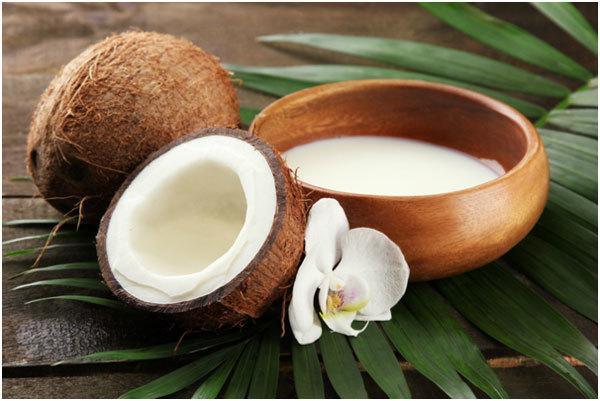 Coconut milk is a liquid derived from mature coconuts and it's different than coconut water. It is used in many dishes as an alternative to regular milk. Coconut milk is a high fat content but still it's very effective during weight loss. It contains vitamins like niacin and folate which increases blood circulation and also prevents cancer in some cases. Besides the health benefits, coconut milk is also good in enhancing beauty. Yes, you heard me right…. It can be beneficial for your skin and hair.
Today I'll be talking about coconut milk for hair growth. Coconut milk is the answer of every hair problem you are facing. It contains vitamin E and fats which are very beneficial for hair and also promote hair growth. A year ago, I found my hair so dull and damaged. I was so tensed about my hair. Then my mother advised me to use coconut milk twice a week. And now I am in love with my hair. Coconut milk has been known to particularly help people who are facing hair problems.
How to apply coconut milk for hair growth?
First detangle your hair properly.

Then take a cotton ball and dip it into the milk. Cotton is going to ease up the whole application process.

Apply the milk on your scalp, hair and tips. After this, use your fingers to massage your scalp. Scalp massage is good for blood circulation and hair growth.

Then tie up your hairs and cover them with a hair cap. It's going to naturally heat up your hair and also prevent the milk from leakage.

Leave your hair for 4-5 hours, so that the milk enters the root of the hair.

Wash it with your favorite shampoo.

After shampooing, condition your hair.
Tip 4:
Dry some basil leaves and Margosa leaves. Add some Bay leaves and powder all 3 together. Add 1tspn of this powder to 50 ml. of water and apply for ½ an hour Wash.